Remove this product from my favorite's list.
Add this product to my list of favorites.
Topwater Belly Lure "Harvester"
Often predatory fish attack floats, bombarda floats, and buldo fishing floats. The Realwobbler Belly Lures have been created with the aim of making these attacks successful. The swimming action of these lures imitates the movement of frog, mice, and bugs on the water's surface. Specific waves are formed by their movements, similar to those of different small organisms swimming on the water's surface. It's exactly this swimming action that fires up predatory fish.
These handmade top water lures are best for largemouth bass, chub, perch, trout, pike, asp fish, catfish, and other predatory fish species in freshwater.
As all Belly Lures are handcrafted, there are differences in their sizes, shapes, and decorations. Their features are as follows:
Bodies: robust poplar wood.
Body length: 4 - 6 cm / 1.57" - 2.36".
Circumference of the widest part: aprox. 9 - 10 cm / 3.54 - 3.94".

Weight: 8 - 12 g / 0.28 - 0.42 Oz.
Floating.
1 hook.
Price: 15.95 Euro
17.95 USD
Ref.: 00155

Out of stock
29 other products in the same category:
More info
Vitaly Sh. from Ukraine caught a wels catfish of 9 kg/ 20 lbs on a Realwobbler Belly lure. Vitaly has been using the Belly lures since last year. Here's what he says about the fishing with them:
"Last year I caught catfish, asps, pikes, and chubs of the Bellies. This summer I had great fun too. A catfish stroke on the Belly lure and it flew at a height of 2 m/ 6.5'. The next day I caught 2 catfish on the Belly: the one was 8 kg/ 18 lbs and other one 2 kg/ 4.5 lbs. And on the following trip I caught this beautiful fellow of 9 kg/ 20 lbs. The hook was so well-anchored that I had a really hard time to pull it out.
I'm very pleased with the Belly lures; the attacks are just spectacular. I even ordered two for a gift to a friend of mine."
August, 2017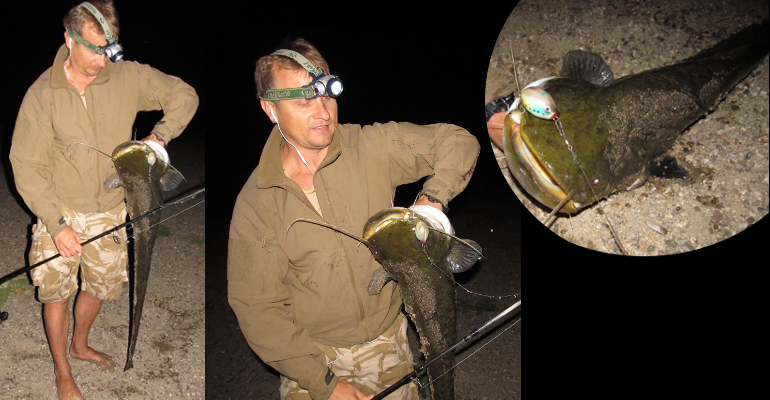 More Wels Catfish caught by us with this Belly lure model in the summer of 2016: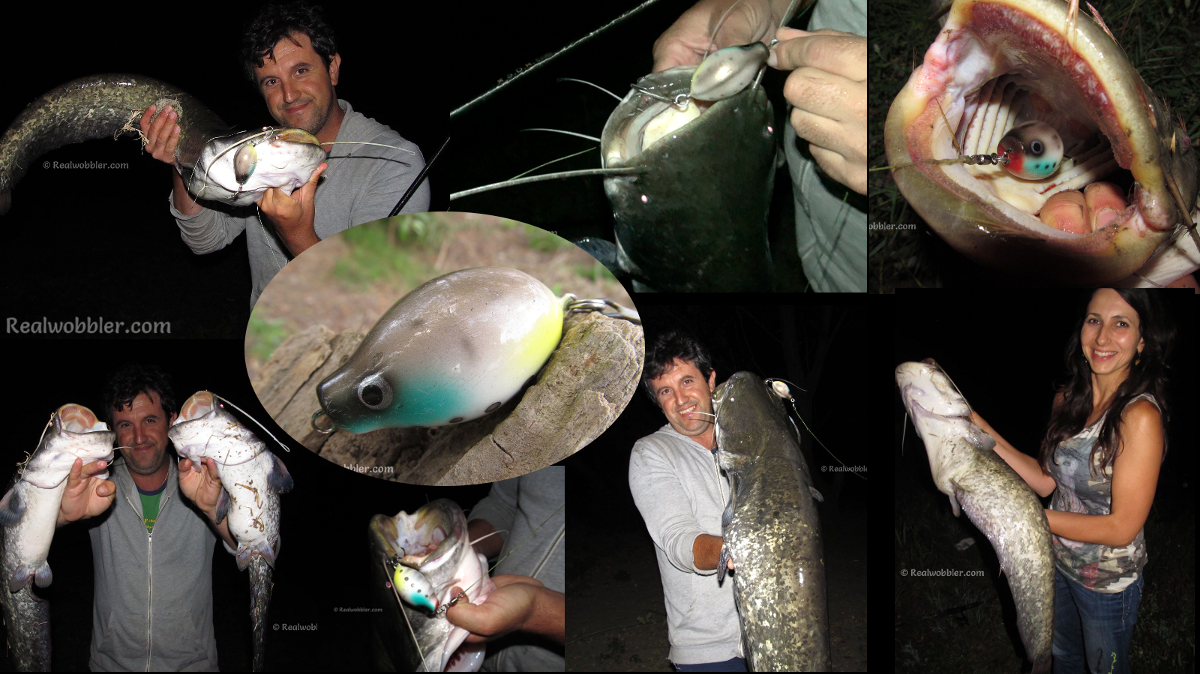 Best performance can be achieved with long dragging of the bait on the water without any movement alternating with very light twitches of the rod tip (see video below).
Furthermore, the Bellies can be used as buldo fishing floats. In this case the treble hook should be removed so that it doesn't interfere with the fishing line.