Remove this product from my favorite's list.
Add this product to my list of favorites.
Belly Lures Frog Slim
Often predatory fish attack floats, bombarda floats, and buldo fishing floats. The Realwobbler Belly Lures have been created with the aim of making these attacks successful. The swimming action of these lures imitates the movement of frog, mice, and bugs on the water's surface. Specific waves are formed by their movements, similar to those of different small organisms swimming on the water's surface. It's exactly this swimming action that fires up predatory fish.
These handmade top water lures are best for smallmouth and largemouth bass, trout, pike, chub, asp, catfish, perch, and other predatory fish species in freshwater.
As all Bellies Lures are handmade, there are differences in their sizes, shapes, and decorations. Their features are as follows:
Bodies: from durable poplar wood.
Body length: 4.5 - 5 cm / 1.77" - 1.97".
Circumference of the widest part: aprox. 7 - 8 cm / 2.76" - 3.15".
Weight: 6 - 8 g / 0.21 - 0.28 Oz.
Floating.
1 hook.
Price: 15.95 EUR/ 29.95 BGN

17.95 USD

To order, please contact us and send us the links of the lures that you would like to purchase!
Ref.: 00122

Out of stock
29 other products in the same category:
More info
John Polites, California, sent us pictures and a video of Striped Bass that he caught on a Realwobbler Belly lure. Here is what he shared with us about his fishing experience with the Belly lure:
"Had the most fun today ... came across a Striper Boil not the biggest fish but lots of action as quick as it started ... it was over (lasted about 30 minutes) ... The Striped Bass just couldn't stop Hitting this handmade wooden Realwobbler Belly lure. It really was a lot of fun, fish after fish! Big time fun! on the Calif. Delta"

September, 2018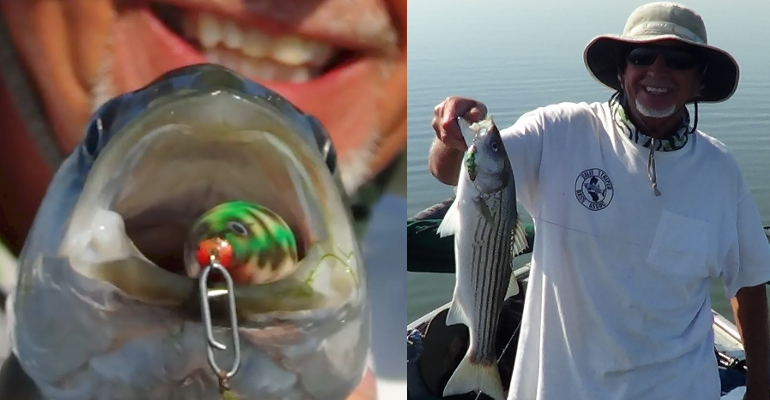 Best performance can be achieved with long dragging of the bait on the water without any movement alternating with very light twitches of the rod tip (see video below).

Furthermore, these Slider Lures can be used as buldo fishing floats. In this case the treble hook should be removed so that it doesn't interfere with the fishing line.