Realwobbler's History in Brief

Realwobbler is a family-run business with two founders: Tsvetomir Georgiev and Katya Georgieva. Although the Realwobbler Online Boutique has only come into the market this year, the history of Realwobbler fishing lures began a long time ago.
Tsvetomir has been a passionate fisherman since he was a  child. He began fishing with live fishing baits. However, he often had the problem of fish eating the bait and swimming away, which caused him a lot of headaches due to two things: first, because he couldn't catch the fish; second, the live bait was wasted in vain.
But everything changed in 1996, when his father brought him a valuable gift from abroad: a hard bait lure. It was the first time Tsvetomir had ever seen such a lure. He was fascinated with it and wanted to have more of the same kind, but in those times, there weren't any to buy in the stores in his hometown in Bulgaria.
The only way for him to get more of these lures was to make them himself. He first had some rather unsuccessful attempts. Eventually though, he made the first one that really worked. Tsvetomir was very happy seeing the bait floating in the river. All of a sudden, there was another pleasant surprise - a three kilogram pike.
Since then, Tsvetomir has been creating hard bait lures for his own use and has been constantly improving them with time. Below you can see some of his first inventions.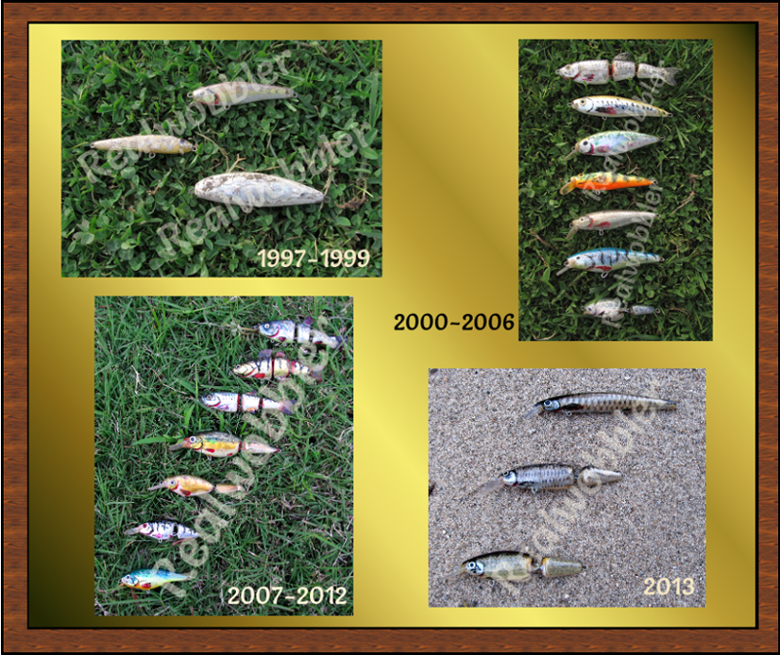 Former Realwobbler Lures - Models from 1997 to 2013.
Today, after more than 17 years of experience in the creation of hard bait lures, we are now on the market, to offer you all of the innovative models of these fishing lures. Realwobbler is a pioneer in offering hard bait lures covered by real fish skin, with wooden lips and of extraordinary performance.
About the Name
Realwobbler operates at an international level; therefore, it has a name that reflects this and that could be understood, at least partially, in the different countries we work with.
The name is composed of two parts: "Real" and "Wobbler".
The first part, "Real" is understandable in many different countries and refers to the realistic appearance and swimming action of the fishing lures.
The word "Wobbler" means "a hard bait lure", and is used regularly in several countries, such as Germany, Russia, and Bulgaria.