Remove this product from my favorite's list.
Add this product to my list of favorites.
Ultra-Shallow Diving Crankbaits Retro Fire Cat S 9
Lures that Catch Catfish, Pike, Zander
Handmade, wooden crankbaits for effective fishing!
Best lures for the fishing of catfish, pike, asp, walleye/ pikeperch, bass, big chub, barracuda, sea bass, bluefish and other predatory fish species in fresh and salt water.

To guarantee the perfect swimming action of the lures, each crankbait was tested in strong current of a river.

Features
Bodies: durable poplar wood.
Solid lacquer coat.
Size: ca. 9 cm / 2.36 - 3.54".
Weight: 18 - 20 g / 0.63 - 0.67 Oz.
Diving depth: ca. 0.2 - 0.4 m / 7.80 - 15.70".

Floating.
Rattling and silent available.

Price 30.95 EUR / 59.95 BGN
34.95 USD
To order please contact us sending us the links or reference number (s. below) of the lures that you like!

Ref.: 00226

Out of stock
30 other products in the same category:
More info
Delyan Kostov from Haskovo, Bulgaria sent us a picture of his son Nikola with a pike, which he caught on a shallow-diving Realwobbler Retro Fire Cat lure. Here is what Delyan shared with us:
"The fire cat became Niki's favorite lure but after this catch another brutal pike ate it send me 2 new ones please! If I had photographed all the pike we caught on your wobblers I would have sent you an album, a serious one!"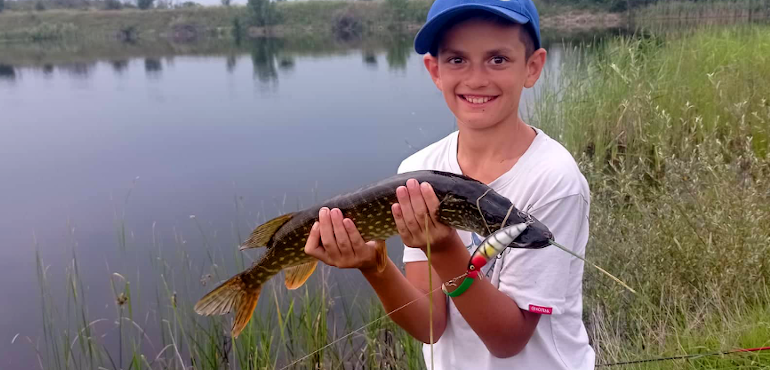 Delyan and Nikola visited us already to get new Retro Fire Cat and other crankbaits. If you would also like to test Realwobbler in your fishing, contact us! It's definitely worth it!
*****

Hristo Petrov from Svilengrad, Bulgaria, caught a nice pike on his Retro Fire Cat S 9 crankbait. Here is what he shared with us:
"I visited Lake Zagorka. The first trip was short, only about two and a half hours, but I still had success with a pike catch on a realwobler fire cat right before I left. On the second trip until noon I was insisting a lot and exchanging all kinds of lures, finally at about 12.00 h I had a catch on the same fire cat crankbait. There was a comment from a colleague who was close when the pike attacked "Tsetso's lures proved themselves again". For the two short trips, although I only caught two fish, the emotions will remain unforgettable since I visited the place for the first time and I managed to catch fish."
February, 2021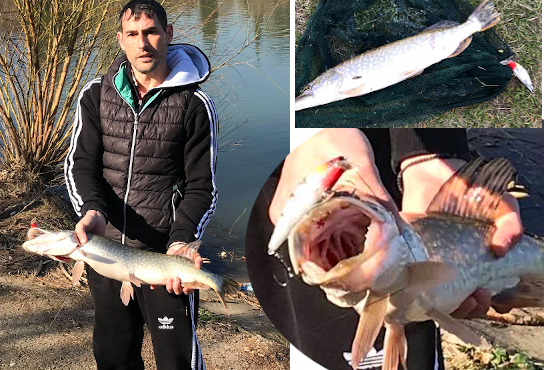 Last year Hristo also caught a nice asp on the same Fire Cat lure and told us the following:

"Some time ago I bought a Fire Cat. I hadn't come across a wobbler with such a strong vibration before, it's unique! Today I got my first nice fish on it! An asp with a length of about 50 cm/ 20". I hope for a catfish next time."

September, 2020
Here is also a video on bites and a nice catch of a zander/ pikeperch on the Retro Fire Cat S 9 crankbait on one of our fishing trips: