Remove this product from my favorite's list.
Add this product to my list of favorites.
Crankbait Retro Fire Cat
Handmade, wooden crankbaits for effective fishing!
Best lures for the fishing of catfish, asp, walleye/ pikeperch, pike, big chub and other predatory fish species.

To guarantee the perfect swimming action of the lures, each crankbait was tested in strong current of a river.

Features
Bodies: durable poplar wood.
Solid lacquer coat.
Sizes: ca. 6 - 10 cm / 2.36 - 3.94".
Weight: 10 - 16 g / 0.35 - 0.56 Oz.
Diving depth: ca. 2 - 5 m / 6.5 - 16'.

Floating.

Prices from  21.95 to 30.95 EUR / 41.95 - 59.95 BGN
24.70 - 34.95 USD
To order please contact us sending us the links or reference number (s. below) of the lures that you like!

Ref.: 00218

Out of stock
30 other products in the same category:
More info
Pavel Veselinov from Sofia, Bulgaria, had a good first fishing trip with his Realwobbler Retro Fire Cat crankbait. He shared with us: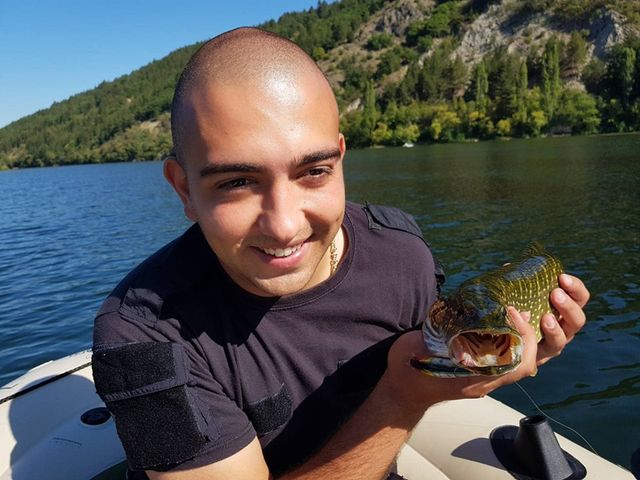 "After the first test of the lure I bought from you I have very good luck. I am very happy I will definitely buy more. The trip was to Pancharevo Dam by boat and in 3 hours I caught 7 fish on the Fire Cat which makes the wobbler quite successful!"
Here is a short video that Pavel sent to us.

September, 2020

---
Hristoz Iliev from Svilengrad, Bulgaria, caught his first fish ever on spinning on the Realwobbler Retro Fire Cat crankbait. The catfish was 12 kg! Here is a video on his catch:

Swimming action and reeling techniques of the new Realwobbler Retro Fire Cat crankbaits:
---
Asp of 1.5 kg/ 3.3 lbs caught on a Realwobbler Retro Fire Cat.