Remove this product from my favorite's list.
Add this product to my list of favorites.
Slim Lure XS with Nase Fish Skin
This lure is a completely handcrafted unique masterpiece, and is the only existing one in the world with these features: shape, weight, swimming action, hand painting, fish skin. Its body is elaborated from durable poplar wood; what is more, it is covered by real fish skin from nase. To ensure its excellent swimming action, it has been tested in a river, under the influence of the natural water and environment.
Due to its natural appearance and real-like swimming action, this hard bait lure is highly effective for the catching of many different species of predatory fish in fresh and saltwater. Fishing with this Realwobbler lure is a real pleasure, which will help you increase your catches and enjoy fishing even more.
Size: 8,5 cm / 3.35"
Weight: 9 g / 0.32 Oz.
Skin: Nase.

Floating.
Diving depth: ca. 0.25 - 0.5 m / 0.75 - 1.5'.
Best suitable for the fishing of sea bass, bluefish, barracuda, catfish, pike, walleye/ pikeperch, black bass, asp, and other predatory fish.
Highly effective for casting and trolling.
SOLD
Please contact us, if you wish to order a similar crankbait!
Ref. 00154

Out of stock
30 other products in the same category:
More info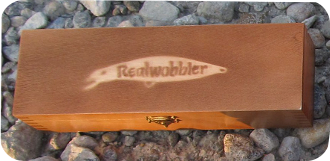 You will receive the lure in a beautifully customized wooden box, which makes it the perfect gift for all fishermen who are passionate about Spinning and Trolling fishing.
Together with the fishing lure, you also receive two sets of treble hooks:
- Weak Hooks that are intended to be used to explore unknown fishing places. If the fishing lure gets stuck on an object in the water, you can pull strongly on the fishing rod until the hook turns upright and permits you take the fishing lure out. These hooks are appropriate for catching fish of 4-5 kilograms or even more. In addition, they are well suited for novice fishermen.
- Strong Hooks that are suitable for well-known fishing spots, and for the catching of trophy fish.
Realwobbler recommends using both sets of hooks in order to minimize the risk of losing the fishing lure in the water.
Moreover, Realwobbler advises having a lure retriever with you in case your lure gets stuck in the water. It can help you retrieve the lure.
In addition, you can use a leader wire, so that fish with teeth don't bite through your line. This will help prevent your bait from getting lost.