Reviews: See what others think of the Realwobbler lures
Less than 2 weeks ago, Iliyan Tenchev (Ljubimetz, Bulgaria) ordered a few Realwobbler lures. Yesterday, he already had his first excellent result on a Realwobbler Belly Lure: an enviable big asp of 4.7 kg/ 10.30 lbs! Here are the pictures of his catch and his opinion about the fishing with the Belly lure:
"A few days ago, I bought a few Realwobbler lures. Today, for the first time, I had time to go fishing at dawn, and here is the result! I caught my first asp ever, which was 4.7 kg/ 10.30 lbs, on a belly lure. With it, I set a new personal record! The hook was so well hooked that I could barely take it out. I strongly recommend the Realwobbler belly lure! The fishing with it is really incredible!"
October, 2017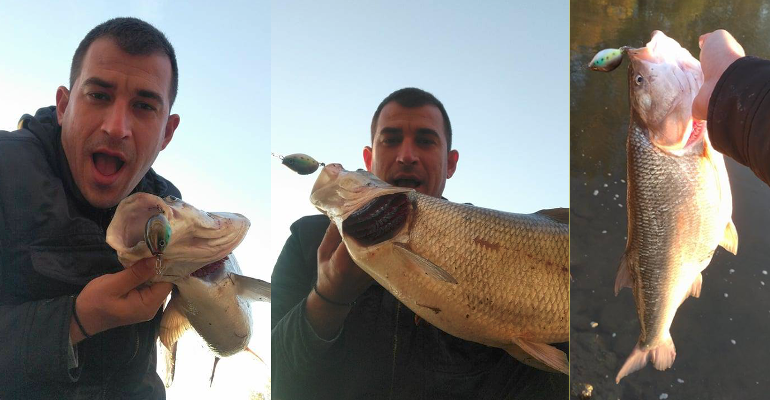 ---
Vitaly Shumeiko from Ukraine caught a wels catfish of 9 kg/ 20 lbs on a Realwobbler Belly lure. Vitaly has been using the Belly lures since last year. Here's what he says about the fishing with them:
"Last year I caught catfish, asps, pikes, and chubs of the Bellies. This summer I had great fun too. A catfish stroke on the Belly lure and it flew at a height of 2 m/ 6.5'. The next day I caught 2 catfish on the Belly: the one was 8 kg/ 18 lbs and other one 2 kg/ 4.5 lbs. And on the following trip I caught this beautiful fellow of 9 kg/ 20 lbs. The hook was so well-anchored that I had a really hard time to pull it out.
I'm very pleased with the Belly lures; the attacks are just spectacular. I even ordered two for a gift to a friend of mine."
August, 2017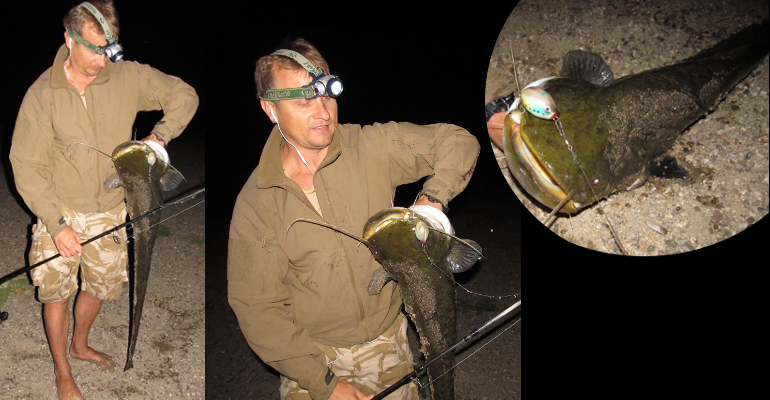 ---
For the first time a wels catfish (5 kg/ 11 lbs) was caught in a dam on a Realwobbler Belly lure by our customer Borislav Chapkanov (Svilengrad, Bulgaria). Congratulations, Bobi, for this achievement!
Here is what the happy angler said about his fishing experience with this lure:
"The belly lure has an incredible swimming action. I got a few strikes. As I casted, I reeled in 2-3 times and got an attack; at the 4-5th cast the catfish got caught. It's a lot of fun with this belly lure. In a word, it's unique; I'm very pleased with it."

June, 2017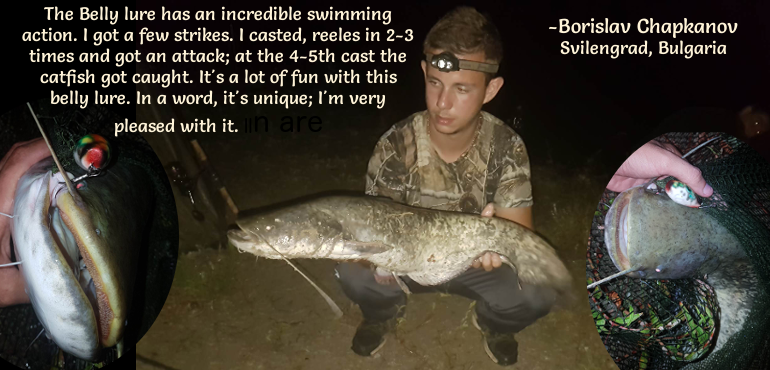 ---
Our friend and customer Georgi Petrov, Svilengrad, Bulgaria, tested his new Belly lure for pikes. Here is what he said about fishing with it at the end of the day:
"In 4 hours of fishing with the Belly lure I got more strikes than ever. Pikes don't give up until they swallow it. It's very cool! I won't be able to sleep tonight!"
May, 2017
---
Velizar Metodiev, Svilengrad, Bulgaria, tested out a Realwobbler Slim XS lure covered by pike skin. Here is his opinion about it:
"The Realwobbler lures are an incredible weapon, even when used by an absolute novice in the spinning fishing like me. The fact that for an hour of fishing I got 5-6 bites speaks for itself about the effectiveness of the Realwobbler lures."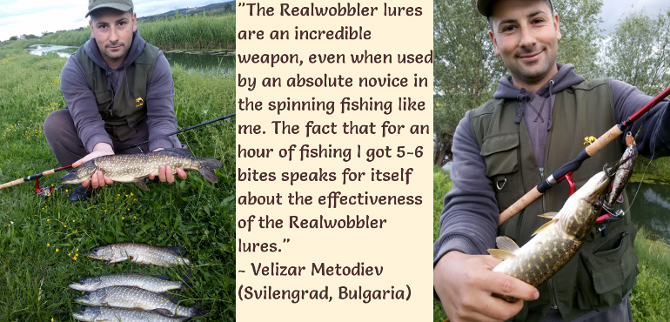 Velizar's newest catch on a Realwobbler Belly lure: a 2 kg/ 4.4 lbs pike. Here is what he says about his fishing experience with the innovative topwater lure:
"With the Realwobbler Belly lures fishing is possible and successful even on spots where the algae are more than the water!"
November, 2016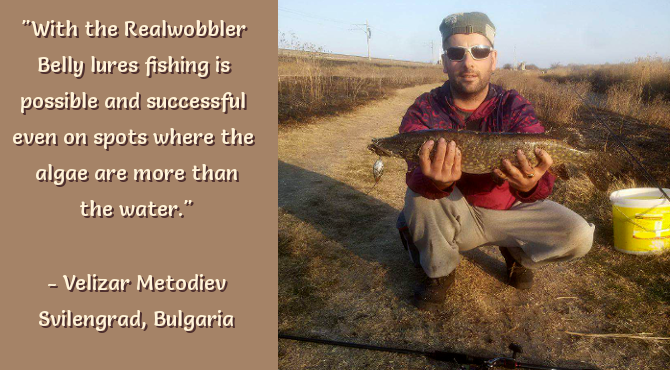 ---
Ivan Petkov, Dimitrovgrad, Bulgaria, caught a catfish while fishing with us. See the video below. He also informed us about his catches and opinion about fishing with the Realwobbler fish skin crankbaits in the summer of 2016:
"There are no better lures for me than the Realwobbler lures. I'm fishing with them since the beginning of this past summer and they are all with traces of bites from catfish already. They have incredible swimming action and I could catch some catfish on them. Fishing with the Realwobbler lures is unsurpassable pleasure."
October, 2016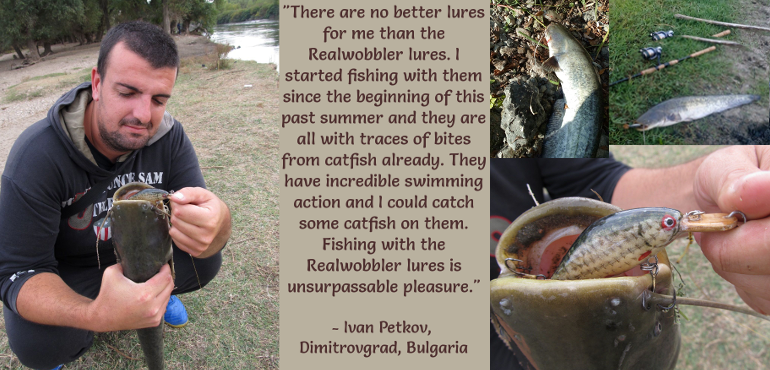 ---
The Finesse Fishing Team, Zurich, Switzerland (YouTube Channel Finesse Fishing) tested the Realwobbler topwater Belly lures. Watch the awesome test video below!
Here is the report about fishing with the topwater wooden Bellies of the team members - Jan Schellenberg, Janik Sonderreger, Talin Engler and Dominic Spichtig:
"We like the Belly lure extremely well. Fishing with it is a lot of fun. Initially we thought: it looks interesting and fun; let's see if it also catches. But at about 10th cast I (Jan) already could catch a pike on it. Also in Sweden we could catch a lot of pikes on the Belly lures.
Meanwhile, the Belly has become first choice for us for our waters. We think that it is a great topwater bait for small ponds, where we mainly fish, and for shallow shore areas of larger water bodies.
We have caught really many  small and mid-size pikes on the Belly. Unfortunately, we lost some that were above 70 cm/ 27". But this shows that also bigger pikes can bite on the Belly lure.

We also managed to catch some perch. The lures that we had (size 4 cm/ 1.57") were a bit too big for them. But they are surely good for big perch. However, if of a smaller size, the Bellies would be perfect baits for our perch here.
All in one, we are quite a fan of the bait, since there is a good bite frequency and  only a few bites are missed bites. Often the pikes swallowed the Belly very deep."
October, 2016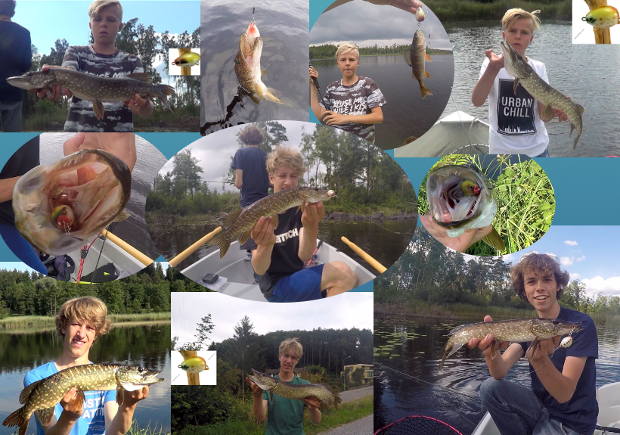 In the summer of 2017, Jan Shellenberg tried out fishing for chubs with a Belly lure "Spider". Here is a video of what happened:
---
Daniel Roberts, Pennsylvania, USA (YouTube channel Backyard Bassin') tested a Realwobbler Belly lure for largemouth bass. Check out his fishing results and opinion about the lure:
"I enjoyed fishing with the Belly lure; it was fun. I'm into wooden baits for top waters; they do really well especially when it's more like a finesse bite. The water was kind of clear. I'm not as much of a frog fan in a situation like that. I will recommend giving that Realwobbler Belly lure a shot. It is a great topwater bait."
July, 2016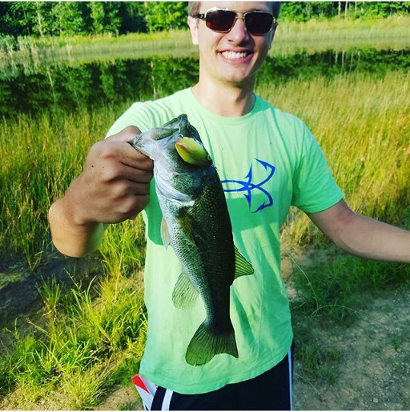 ---
Kenny Addair, MD, USA, (Instagram Kenny Addair) caught largemouth bass on a topwater Belly lure (May 2016). Here are his short videos:



---
Rob Blumberg, Franklin, TN USA, (Google+ Rob Blumberg)  tried out fishing with topwater Belly lures. Here are some pictures he sent to us in May 2016, together with his opinion and a short description of his experience with the Bellies: 

"Last night I got into some serious topwater action! They weren't hogs but they were still a blast regardless of size. I probably caught about ten in a hour or less on these awesome hand carved belly lures made by Realwobbler. Definitely a unique topwater bait with great size, shape and action! For sure I'll keep one on me for when the time is right."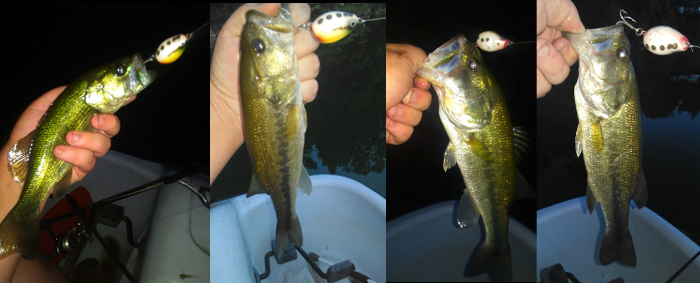 ---
Vasil Atanasov, Svilengrad, Bulgaria, tried out a handmade Realwobbler Fish Skin Slim Crankbait for pikes. Here is a video about his catch as well as his opinion about the lure:
 
"The first time I fished with a Realwobbler fish skin crankbait I caught my first pike ever. It was an incredible feeling. I can recommend these lures to everyone - even to beginner anglers like me."
---
Nikolai Dimitrov, Svilengrad, Bulgaria /Nikolai Dimitrov on Facebook/, told us about his fishing adventures with the topwater Belly lures during the summer and autumn 2016:
"Magic Belly lures! I got a lot of strikes, unfortunately only this one got hooked. The pikes are crazy about them. In the summer I even caught an eel on a Belly. It's lure Nr. 1 to me!"